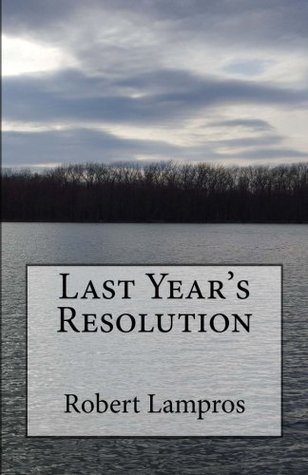 Synopsis:
Last Year's Resolution is a novel about Edmund Stovender, a famous author who falls in love with Marie, a journalist who calls him for an interview just before the performance of his hit play. Their lives accelerate through an epic adventure testing their faith, strength, and love for each other, as they discover that their story might pivotally influence the fate of the world.
Review:
This book has been on my to be read list since the near end of April. Robert had contacted me and asked for a review and I of course said yes.
Thanks to the simple 170 pages I managed to finish the book in one sitting which I found very handy and lovely. This books is a Christian Novel, it is heavily based around faith and I didn't even mind it at all, it was quite nice to read. Although primarily faith related there is a subtle romance all the way throughout the book, between the main character Edmund and a journalist Marie. The romance was sweet, clean, but still passionate. It was the kind of romance that lead you on but never quite goes there which in all honesty is the best kind of romance.
The aspect of faith was a personal thing for the protagonist. I wouldn't call it a theme throughout the book where he acted on God's Will and Commandments but it was definitely his driving force and that was evident throughout the book. It was subtle but definitely there.
I love the fact that the protagonist is an author, I love reading books about characters who write books It's just like watching a version of yourself. I had times where I would sit and compare myself to the protagonist because he was so passionate and hardworking, I always thought, do I work as hard as he does? Do I have the same amount of drive and determination as he has? I felt like I could relate to him on a deeper level, but even readers who aren't writers will love this character. His desire to be the best at what he does is something that anyone with a burning passion for something can relate to.
The plot was fast faced, the characters well developed and loveable and I must tip my hat to Robert for creating such a novel that is an expression of the power of faith and importance of strength in bad times. I liked the read and although not what I would usually read, Last Years Resolution is a refreshing read and a 5/5 from me. A definite recommendation to those who appreciate a well written novel.