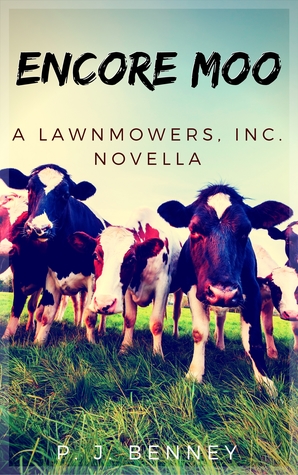 Synopsis:
Sometimes Nicholas Wyndham is happy, but it depends which one of him you ask. There are dozens of versions of him, and they're trying to make contact. The laws of physics are of no concern to a man who can send emails to a parallel universe. Naturally, some of the Nicholases, the clueless ones, are getting worried. Their post keeps going missing, and their kitchens are haunted, and their partners grow suspicious. In the wake of the Lawnmowers, Inc. scandal, Nicholas Wyndham is having a crisis, and Nicholas Wyndham is the only man that can help him – if he can reach himself in time.
Review:
This is such a fun Novella I actually cant contain my good emotions whilst reading it. There are dozens of Nicholas Wyndham, and its quite fascinating to watch them discover what's happening to them and try to figure out what to do about it. Its a quirky novella at that, I mean it's just brilliant to read because there are so many versions of Nicholas and some of him freak out some of them find it perfectly logical when it comes to explaining recent happenings in their lives. There's also Beth and Violet, each of them playing parts in many of Nicholas' lives (this is very absurd and slightly confusing to write) Depending on which one of him you ask but they're more loved by him than not so that's a positive for them. It's great to see that Present Violet is linked to
Déjà
Moo in the way that she would write vegan friendly recipes for Lawnmowers Inc, well that was before it went in flames anyway.
I don't think I can make this review as long as my others just down to the fact it's a novella and I refuse to ruin anything for you all because there's no fun in spoiling anything for anyone. Take my word for it, Encore moo is funny and exciting and although seemingly confusing to follow its easy peasy.
A plot that's so twisty turny and funny that part of me can't understand how P.J.Benney managed to stay on track whilst writing this and even bought up the question of did he get confused at all? We do get to see a few familiar faces come the ending of the novella and it was a nice way to end it.
Once finishing
Déjà
Moo I knew I had to read Encore Moo just to allow me to fill the hole left in my life now I had finished the first book. Once again P.J Benney did a great job mixing his humour into the writing creating something unique and quite beautiful. I loved how even though a Novella and nearly nothing to do with Déjá Moo how Benney managed to keep a link between both stories.
It's an easy 5/5 from me, I cant say a single bad thing about the Novella, its a perfect little read to fill a period of time with and tie you over until Bovine Intervention coming in 2018. Even though not a genre I have read lot of besides
Déjà
Moo. The door has definitely stayed opened and I'm looking forward to reading more of the genre and P.J Benney's work.
Links
Click here to see Déjá Moo: A Lawnmowers, Inc. Novel on Amazon
Click here to see Déjá Moo: A Lawnmowers, Inc. Novel on Goodreads
Click here to see Encore Moo: A Lawnmowers Inc. Novella on Amazon
Click here to see Encore Moo: A Lawnmowers Inc. Novella on Goodreads
Click here to see P.J Benney's Twitter
Click here to visit P.J Benney's Website