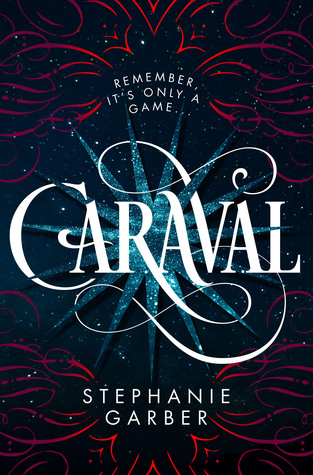 Synopsis:
Welcome, welcome to Caraval―Stephanie Garber's sweeping tale of two sisters who escape their ruthless father when they enter the dangerous intrigue of a legendary game.

Scarlett has never left the tiny island where she and her beloved sister, Tella, live with their powerful, and cruel, father. Now Scarlett's father has arranged a marriage for her, and Scarlett thinks her dreams of seeing Caraval, the far-away, once-a-year performance where the audience participates in the show, are over.

But this year, Scarlett's long-dreamt of invitation finally arrives. With the help of a mysterious sailor, Tella whisks Scarlett away to the show. Only, as soon as they arrive, Tella is kidnapped by Caraval's mastermind organizer, Legend. It turns out that this season's Caraval revolves around Tella, and whoever finds her first is the winner.

Scarlett has been told that everything that happens during Caraval is only an elaborate performance. But she nevertheless becomes enmeshed in a game of love, heartbreak, and magic with the other players in the game. And whether Caraval is real or not, she must find Tella before the five nights of the game are over, a dangerous domino effect of consequences is set off, and her sister disappears forever.
Review:
I want to start with thanking Netgalley/Stephanie/Publishers involved for allowing me to receive a copy of Caraval to read and review honestly. with that said I will refrain from telling any spoilers so I do apologise if the review is very scarce or hard to make sense of.
Part of me wanted to review this book closer to its publication date (31st January 2017) but once I finished reading it2 days ago I just simply couldn't wait.
So right away we're transported right into the lives of two sisters, Tella and Scarlett, we learn that Scarlett has been writing letters over the course of several years to a man named Legend. upon discovering news that she believes Tella should know about the story unwinds quickly transporting you and the characters across the plot line in a smooth move or few. Before they know it they're not at home anymore and Tella is separated from her sister and the mysterious sailor. All Scarlett wants to do is find her beloved sister and experience this all by her side but that's harder said than done. Scarlett is quick to discover Tella is the centre of this years game which drives her harder to find her first before anyone else.

Scarlett was such an easy character to like and even love, she reflected the emotions of a loving sister just trying to find her sister. I connected with her so easy through those emotions because I know that much like Tella and Scarlett, my sister and I can fight and argue and have our moments, I'd risk all to find/save her. She's a cautious character and was always keeping her eyes open for any sort of thing that would help her or show her the way to go. she felt like a strong character one that could really be depended on if she were a really person. what I loved about her was the fact that all of what I said may still be true but when it came to her arranged marriage, she was blind because all she wanted was to please her father and get the relationship she had always longed for but refused to understand what her sister and the mysterious sailor meant and felt when it came to the fact she hadn't actually met her fiancé before.

Her sister Tella comes across very reckless and spontaneous but you can see that deep down she only wants best for herself and her sister. You can tell that both sisters really do just want what is best for each other but its only Tella who really doesn't fear the consequences that may come of her actions from her father. After all it is her actions that really kick starts the unravelling of the plot.

Now Julian, the mysterious sailor. we first meet him in quite a compromising situation. when you first meet him he comes across really obnoxious and not exactly a great character but as time passes by he really shows himself, the caring, loving, protective side. he reads like a guy id like around in real life, a guy who knows what's what and isn't afraid of telling his opinion. Although he can deceive not only other characters but the reader too, you cant help but love every piece of him.

Throughout the book you're trying to keep up with Scarlett, decipher what's real and what's not but sometimes even you as a reader can't see the difference and can become consumed in the magic of Caraval. (not even lying) the book really sucks you in and its near to impossible to tear yourself away from it and put it down. Everything felt so real to me I had to take a few moments after finishing to fully come back to reality. The book definitely has its fair share of twists and turns that really are unexpected but thrilling. I definitely didn't see the ending coming, it was a true surprise and I may have had to cry a little at it, which way I cried you'll just have to read the book and find out yourself.

It's 100% a 5/5 from me and I can't wait to read more from the wonderful Stephanie. I'm probably going to buy a copy of the book as soon as its out in January. Caraval alone was truly immersive and to the level it is, shows the true extent of the magnificent author behind it and the level of writing. A true I definitely recommend this book to those who like fantasy and I've already passed on book information for a friend who has said she'll check it out. I hope you've enjoyed the review.