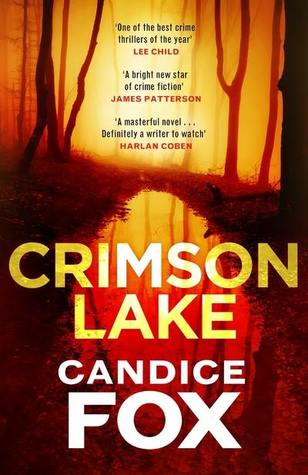 Synopsis:
12.46: Thirteen-year-old Claire Bingley stands alone at a bus stop
12.47: Ted Conkaffey parks his car beside her
12.52: The girl is missing . . .
Six minutes – that's all it took to ruin Detective Ted Conkaffey's life. Accused but not convicted of Claire's abduction, he escapes north, to the steamy, croc-infested wetlands of Crimson Lake.
Amanda Pharrell knows what it's like to be public enemy number one. Maybe it's her murderous past that makes her so good as a private investigator, tracking lost souls in the wilderness. Her latest target, missing author Jake Scully, has a life more shrouded in secrets than her own – so she enlists help from the one person in town more hated than she is: Ted.
But the residents of Crimson Lake are watching the pair's every move. And for Ted, a man already at breaking point, this town is offering no place to hide
Review:
So Ted Conkaffey is accused of abduction and rape of a young girl but isn't convicted due to the lack of evidence. After 8 months behind bars on remand he runs away to Crimson Lake near Cairns to try and rebuild his life from the foundations all the way to the very top. Neither his workmates, who are were fellow detectives on the drug squad in Sydney, nor his wife believe Ted was simply there at the wrong place at the wrong time. So labelled a paedophile he lost his job and access to his baby daughter and now he is living in fear of the case being reopened, he can barely function.
In Cairns he teams up with a private investigator his lawyer pointed him towards, her name is Amanda Pharrell, another damned soul who has served a prison term for murder. Together they combat the task of finding Jake Scully, a missing local author.
You do become fully immersed in the book, with all of the vivid detail all the way from Amanda's colourful tattoos and outfits all the way down to the banks of crocodile infested waters. As the couple dive into Jakes background, his relationships and his fans, they both become interested in finding out more about the 'other' cases which neither wants to talk about. As a reader you too want to know all of the details but with the characters real not letting anything slip that adds to your knowledge so far, you really are just craving for one of them to just open up.
The case itself which they are working on is very interesting I have to admit, this author has seemingly gotten up and walked out of the house and left in one of the cars and vanished, there is no sign of him what so ever until a crocodile close by reveals a clue, but is everything really as simple and clean cut as it seems? Its full of twists and turns you don't really see coming and the conclusion really blew me away and I think part of me is still digesting it. It was just so good watching it unravel and the pieces falling into their places.
Candice had built up 2 great characters here, Ted the tough cop who's life has been turned upside down and has to deal with the local cops picking on him at every chance they get. Amanda is mysterious, unbalanced and fragile at times but she is also fearless and tough as old boots. I fell in love with both characters, they are very much portrayed in a way for you to do that but I feel like even if they weren't written for you to do that, I would anyway because they're both struggling in their own ways and I just feel connected to that part. They are both very similar in ways they don't see but its glorious to watch them develop over the span of the book.
I would 100% want to see more adventures with these pair to see how their relationship blossoms because I really felt like they were a great match of character because after what is really a short time they went from not really wanting to be around each other and hating the quirks of the other, to not really minding being in each others company and even picking up some of the quirk they once disliked.
I'd love to pick up more of Candice' work because this book just simply blew me away so I bet the other pieces of work would too. It's an easy 5/5 from me and I hope anyone who like a thriller/crime will give this book a shot.